also please check out a post on my other blog,
www.virginlipsproject.blogspot.com
our weekend started early. friday classes were cancelled due to a typhoon. our area wasn't hard hit, but it was pretty lucky for us to be out of class because we had all gone to see the batman movie and rode our bikes home in the rain: in the middle of this typhoon, mind you. so we got home at about 2am. needless to say though, i was very impressed by the batman movie. i thought heath ledger's acting was superb and it almost moves me to tears to know that in a way, he gave his life to the role.
other weekend adventures. one of us was invited to a taiwanese spa and was invited to bring three friends along with him, free of charge. so we were introduced to the fabulous experiences of herb pools and jet sprays. imagine the experience of immersing yourself in a mint steam room, to be followed by sticking yourself in 11 degrees Celcius water. yeah. But the other experiences, such as lavender and ginsing pools, as well as the full-body jet-massages. our host was extremely hospitable, kind and just adorable. i love the people of Taiwan. this little paragraph really does not do the experience justice. we will go again and i promise to be more descriptive.
The next day, some of us headed to an ancient Taiwanese city called LouKang, famous for a gorgeous temple, and home to some pretty amazing artists. There are men that paint scenes on paper laterns and fans. They are incredible, and I'm cooking up some ideas for what I want to order and bring home with me.
We met up with the folks that work at the other school that contracts out with ILP, who we hardly see at all. I am very excited to know these other teachers, as they are lots of fun, quick-witted, and I seem to have lots in common with both.
darren was in a rock band.
especially with britta. we are accused of having YELLOW FEVER baby!
we also got a good look at some amazingly beautiful temples.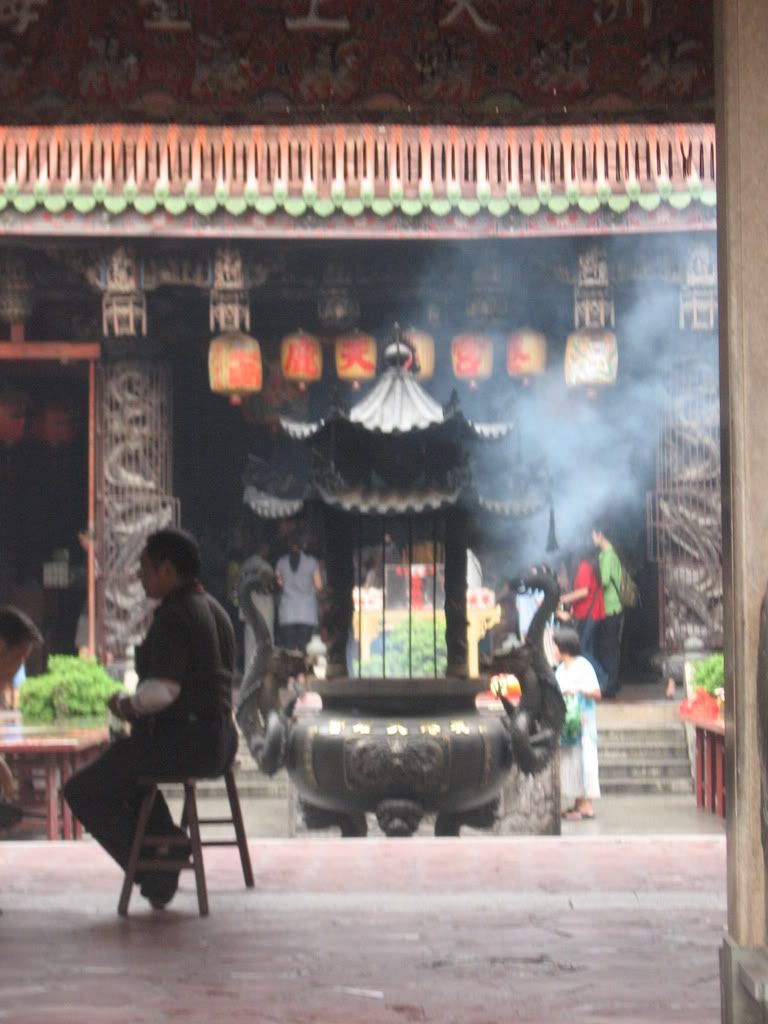 love, peace, and art Chinese,
an exhausted miss-uh may-gun and miss russia